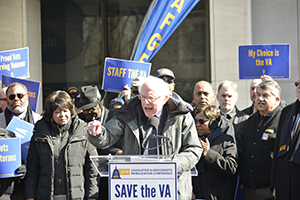 February 13, 2018- The National Postal Mail Handlers along with LIUNA and several other affiliated unions of the AFL-CIO joined the American Federation of Government Employees (AFGE) marching shoulder-to-shoulder to voice concerns over the

priva

tization

of the Veterans Administration (VA).
The AFGE is the largest federal employee union representing over 70,000 federal and D.C. government workers nationwide and overseas.  As part of their Legislative & Grassroots Mobilization Conference, AFGE organized a rally on the steps of the AFL-CIO which sits just feet away from the White House.  Speaking at the rally were AFGE President J. David Cox Sr., AFL-CIO President Richard Trumka and several other labor leaders who all expressed their concerns over the US Governments' attempt to attack the VA and its jobs.  Many speakers addressed the VA staffing shortages and the ramifications of more than 30,000 vacant positions. The message was unified, "Save the VA."
Also, in attendance were Senator Bernie Sanders (D-VT), Congressman Rueben Gallego (D-Phoenix) and Mark Takano (D-California) who got the crowd fired up, chanting, "Staff the VA.".   The rally ended on a high note with AFGE President J. David Cox thanking the hundreds of guests and Union representatives that came out in the cold to stand up and with the faces of labor to join in their fight in protecting the jobs of veterans.  The rally piggy-backs on the recently adopted AFL-CIO Convention Resolution 40,  Rejecting the Privatization of Veterans' Health Care.